Complex trauma surgeries and polytrauma
Trauma surgery is a surgical specialty which deals in trauma or accident related surgeries. It requires years of training in trauma surgery and critical care. Trauma surgeons are first required to stabilize the patient and then evaluating and managing the conditions of the patient. In our hospital, we have a trauma team which consist of health care professionals from all cadres like Orthopaedic Trauma Surgeon, General Surgeon, Neurosurgeon, Plastic Surgeon including nurses and support staff who understand that the needs of the trauma patients are very different from a planned surgery patient. Our trauma surgeons are well equipped to undertake surgeries in all extremities including injuries in neck, chest and abdomen as well as chest and lung injuries. In each of these situations, it becomes crucial for the trauma team to act very fast and evaluate the condition of the patient thoroughly. We also have well equipped ICU back for trauma patients.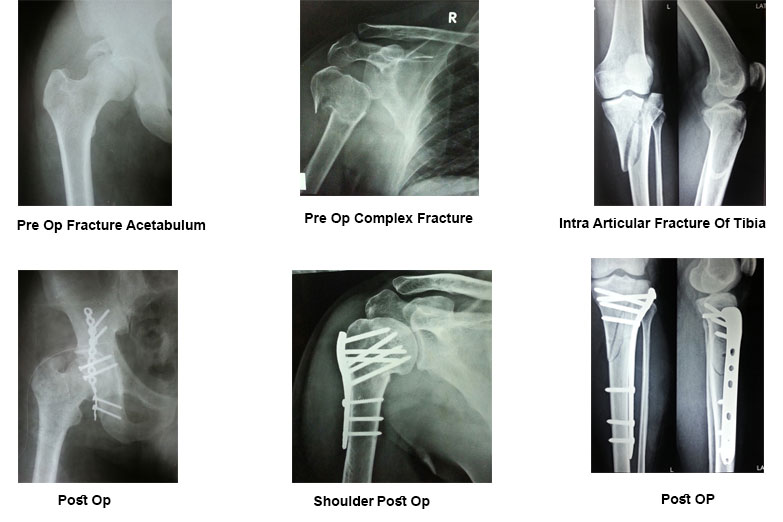 We operate a 24*7 trauma unit where in residential doctors are available throughout the night as well to assist trauma patients without any delay. Life is extremely previous to us and our team is fully dedicated to resolve all complications and perform required emergency surgeries, with minimum delay. We focus on building quick and hassle free medical procedures for our patients. We aim at creating better levels of chances of survival for each of our patient through high quality health care.
Our aim is to ensure that trauma patients are treated with complete care and can live as near normal life as possible. We have a team dedicated only to managing trauma situations and this helps us deal with trauma cases with highest possible efficiency. In this way we have been able to save several trauma patients in the past and continue this endeavour with great passion and dedication. We aim at creating an adequate infrastructure with hi tech surgical procedures and a dedicated surgical team for trauma care. In this way we are one of the leading trauma care facilities in the Western Maharashtra.
We aim at being the best trauma care facility globally with world class infrastructure that can help assist trauma patients with speed and accuracy. This has helped us gather appropriate skills and resources for trauma management. Our dedication and approach to trauma management is holistic as well as world class. We ensure complete assistance to trauma patients.