The commonest causes of Hip pain in our country are:
Avascular Necrosis of Femoral Head (AVN)

Inflammatory Arthritis eg. Ankylosing Spondylosis

Childhood Hip Disease eg. Hip dysplasia, Perthe's Disease
Rheumatoid arthritis

Post traumatic Arthritis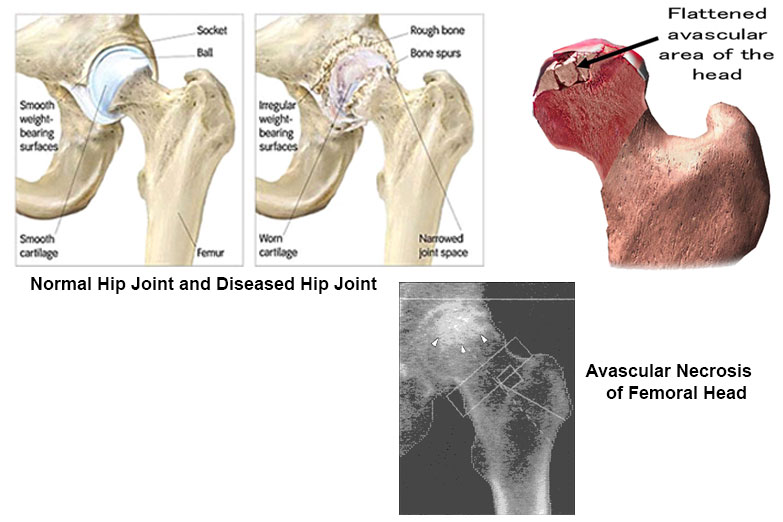 Primary and Revision Total Hip Replacement
Primary and Revision Total Hip Replacement surgical procedure where Ball and socket joint of Hip is replaced by Artificial Ball and Socket. This needs careful assessment with proper examination and investigations of patient. We understand the needs of each of the patient and craft a hassle free treatment for each of our patients. These complex procedures require high levels of expertise and understanding about the implications of each surgery. We ensure high levels of quality in each of our endeavors. We use a safe and medically approved procedure for Total Hip replacement along with complete care and support for our patients.
The rates of Revision total hip replacement are much higher thanPrimary hip replacement. Never the less, the expertise, care and support required for revision replacement is much higher. We are well equipped with latest technologies and a skilled staff. This enables us to provide a safe surgical process and excellent health care for each of our patients.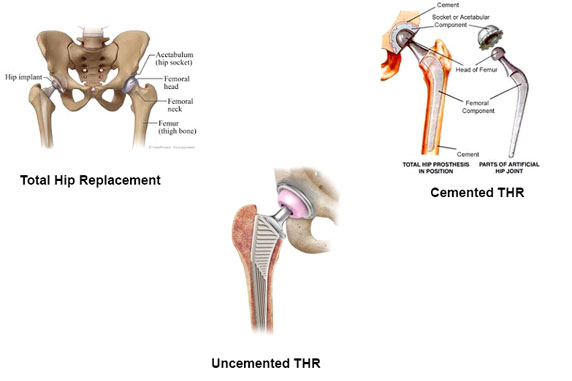 Because of this diseases hip joint becomes painful. Patient have difficulty in standing, walking, sitting, hampers patient's day to day life. When destruction of hip joint is more than Grade III, patient needs to undergo Primary Total Hip Replacement.
The procedures of Primary and Revision Total Hip Replacement have the same goals of relieving pain and improving functionality, revision procedures are usually longer and more complex. This surgery requires specific skills and our doctors are well equipped with the research, information, practice and knowledge in dealing with Primary and Revision Total Hip Replacement We use extensive planning and high quality implants for each of our surgical processes and treatments for greater results. We ensure high level of accuracy in diagnosis and helping patients understand the health issues that they are facing.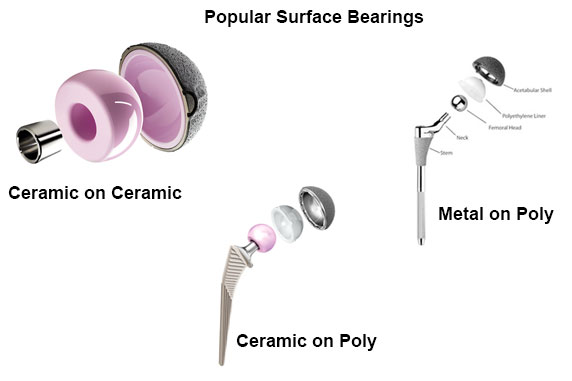 All of our replacement processes match success rate with world literature and our doctors and medical staff is well versed in dealing with a variety of hip replacement cases. This enables us to provide you with high quality health care for Primary and Revision Total Hip Replacement. Damaged tissues and bones around the hip are treated using special implants that are designed by experts. We are known for our quality in health care and do not compromise on health care in any situation. We enable each of our patients to access high quality health care with ease. Most of our medical processes are hassle free and enables our patients to obtain accurate and quick treatments. We also ensure the use of technologies in our processes which ensure painless procedures and better rate of success in surgeries.
Our doctors are involved in several researches and ensure thorough and detailed understanding of the problems relating to hip joints. They are not just highly qualified and certified but also experienced and extremely dedicated to provide correct and complete health care to each of the patients. We ensure healthy communication and enable our patients understand the treatments and after care that they require. We have built a high unit of trust along these years among our patients. We aim at upholding our value system and ethics in each of our processes thus building faith and happiness.