Primary and Revision Total Knee Replacement
Knee Osteoarthritis is very common problem in our country. As age progress knee joint starts degenerating, soft cartilage of the knee is worn out leading to wear and tear arthritis. Knee joint is also affected by other diseases like Rheumatoid Arthritis, Ankylosing spondylitis, post traumatic arthritis. With advance changes patients are unable to stand, walk, sit or climb steps. Leg may become bowed. In such conditions patients needs to undergo Total Knee Replacement.

Total knee replacement procedures are known to be one of the most successful procedures in medical care. It helps people live a healthy and active life which is free from chronic knee pain. Stiff, swollen and painful knees can cause a lot of trouble in movement. Knee surgeries enable patients to revive their knees and free them from pain through use of implants or prosthesis. Following a quality process in each case helps us create long term success for patients undergoing.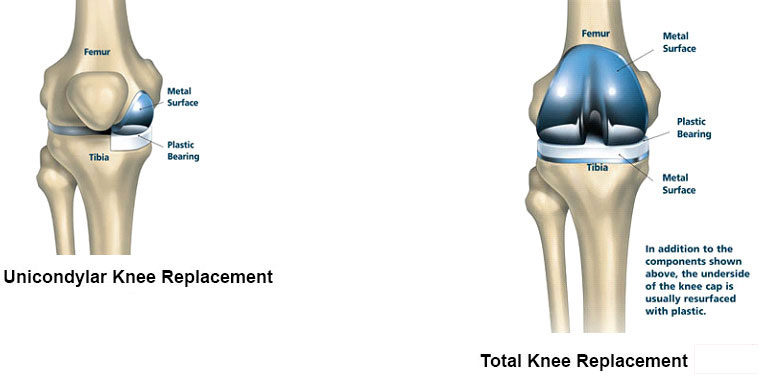 We understand the complex nature of Primary and Revision Total Knee Replacement surgeries and enable our patients to primarily evaluate their health condition. We not only prepare them for surgeries but also help them understand postsurgical care. We understand that utmost accuracy in these surgeries is crucial in order to ensure higher rates of success and enable patients live an active lifestyle without pain for a very long duration. Only then it is possible to bring in a better life for our patients. We ensure utmost care and quality in each of our surgical procedures.
We undertake Revision Total Knee Replacement for complex conditions following fractures, in cases of bone defects, severe ligament laxity with instability, infections, implant loosening and wear in case of failed Primary. We ensure the usage of an appropriate implant of high quality and longer life thus enabling the patient live an active life. We ensure high quality plastic spacers, femoral component, tibial component and patellar component which enable patients to have knees functioning properly. In case of damaged bones, making it difficult to use standard replacement components, we use specialized components, cement based strengthening procedures and use of recent technologies which enable better success in Primary and Revision Total.
We provide high quality health care to each of our patients and enable them to understand their problems as well as treatment. We also provide detailed diagnosis and postoperative care, all of which are extremely essential for the success of the surgical processes. A highly qualified and extremely experienced medical staff make it possible for us to ensure high quality medical treatment for each of our patients. We aim at providing the best infrastructure and health care possible along with hassle free procedures for all medical treatment. It also helps create trust based on ethics and value system which we never compromise on. We have built a high unit of trust along these years among our patients. We aim at upholding our value system and ethics in each of our processes thus building faith and happiness.